After a rousing national anthem by a member of the Army band, the Steelers win the toss. No displays of solidarity from players today, just all business.
The offense comes out playing it safe, with running plays and short passes. Redman picks up a 3rd and 1 and 2nd and 1 with Mendenhall also converting a 2nd and 1 run to move the Steelers to the fringe of field goal territory. Dixon can't pick up a 3rd and 6 with his feet, but Jeff Reed bails us out by blasting a 52-yarder through the uprights. He had enough leg to put it through from 60.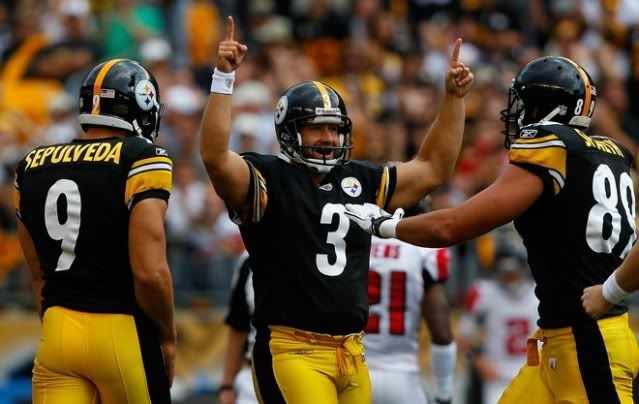 Atlanta comes out and sputters on offense, only picking up a first down via penalty. Randle El gets a big cheer when he's announced as the punt returner.
The motif offense does nothing for us. Early season form. Run-run-pass-punt. Second round pick Jason Worlids gets his name called for the special teams tackle.
LaMarr Woodley records the first sack of the season on a bull rush on 3rd down, just blowing the tackle out of his shoes back into Ryan.
Motif offense. Dixon's pass skips off the turf just short of Wallace. Punt. Worlids makes another special teams tackle.
The Falcons start rolling when Matt Ryan starts looking for Roddy White, but after a first down the Steelers stack up Michael Turner on 3rd down and short thanks to a great play by Lawrence Timmons. Timmons looks night-and-day different in run defense this year. Vast improvement over last season.
The motif offense is back, with Randle El making a 3rd down catch but coming up just short of the sticks. Superman pounds a 53-yard punt.
Matt Ryan converts two long-yardage scenarios with passes to White and Harry Douglas, but the defense holds, forcing a punt.
The Steelers come back, building off their strong running performance, mixing runs and passes. Dixon hit Heath over the middle for a big 17-yard gain and went back to the air with a nice pass downfield for Hines to pick up 21 and get into field goal range. On 2nd and 6, Dixon has Heath wide open but doesn't get enough air under the ball and it gets picked off by a linebacker. It was the right look, Heath was open, Dixon just needs to get more air under the ball and toss it over the LB instead of trying to throw it on a line to Heath.
The Falcons come out with an unbalanced line and go to the air, getting a favorable matchup with Douglas in the slot against Polamalu. They grind out another first down on the ground, then stall out. Bryant misses a 46-yarder wide right at the open end.
With just under 2 minutes to play, Dixon comes out to run the 2-minute offense. Dixon makes a big pass to Mike Wallace to convert a 3rd and 10, getting us across midfield. Randle El can't come up with a catch on 3rd and 6, and Tomlin calls for the kick team. From 55 yards out, Reed pegs one off the upright. It definitely had the leg.
With 22 seconds left, Matt Ryan comes out and makes something happen. A few quick passes down the field and using their timeouts gets the Falcons to field goal range. Bryant hits one from 49 to end the half.
Nice performance from the Army Fife and Drum Corps.
Third Quarter
Atlanta gets the ball to start the second half and cashes in, driving down the field with Ryan converting two big passes to White and Gonzalez. The catch by Gonzalez was the 1000th of his career. They announce it in the stadium, the fans boo. The Falcons try the same pass 3 times looking for a 1-on-1 matchup down the right sideline. Ryan overthrows all 3. Woodley gets some pressure on 3rd down. Field goal.
Dixon finally takes a shot downfield and hooks up with Mike Wallace hanging out by the Wood Street T station for 53 yards. John Abraham blows past Max Starks on 2nd down and sacks Dixon, but Dennis steps up and slings one to Hines who comes up just short of the sticks. Reed ties it up.
Atlanta starts moving back down the field, looking poised to put more points on the board, but a sack by James Harrison where he eats the tackle for lunch sets things back around midfield. B-Mac makes a great play on 3rd down to break up a pass intended for White.
The Falcons dominated the field position battle all game. The Steelers started a ton of drives inside their own 15. Dixon tries to scramble on 3rd and 3, but gets called just short. In the stadium, it looked like he stretched the ball out past the sticks and made it, but nevertheless, punt time. The Steelers had the opportunity to run some time off the clock here, but opted to punt rather than letting the quarter expire.
Two runs get the Falcons to 3rd and 2, but Willie Gay makes a great play to step in front of Gonzalez, almost coming up with a pick.
The Steelers start again from inside the 20. Dixon moves the troops down the field with two big passes for 20+ to Hines. Mendenhall grinds out a few more to get inside the 20, but the Steelers can't find the end zone. Reed gives us the lead back.
Atlanta strikes right back, moving slowly and methodically down the field, with Roddy White being the prime target. They get as close as the 5, but Ike Taylor makes a great tackle of White in space to get him down short of the sticks, forcing the field goal.
The Steelers get the ball back with 3:24 to play and a chance to lead us to victory. He hits Hines and Heath to get across the 40. Tomlin makes one of the worst decisions since the Oceanic 6 left the island and takes a timeout with 2:05 left. Downright terrible coaching move. Why you ask? Well, the worst case scenario played itself out. Dixon gets sacked and the clock stops at the 2-minute warning. Dixon is sacked again on 3rd down and Atlanta uses a timeout to stop the clock at 1:53, giving them a chance to come back and win the game.
Thankfully, we have Troy.
Polamalu jumps an out-route to White, stepping right in front of him and toeing the sideline to give the Steelers the ball on the 30.
Mendenhall picks up 3 on first down, and Atlanta uses their 2nd timeout. Redman comes in and plows for 6 on 2nd down to set up 3rd and 1. Atlanta uses their last timeout. The Steelers talked all offseason about becoming a better running team, and this was a chance to show it. But Redman got stacked up on 3rd and 1, forcing a field goal try. Reed hooks it wide right with 40 seconds to play. I was at the game and couldn't tell, but people who saw it on TV said it started straight and the wind pushed it to the right. Either way, it was OT city.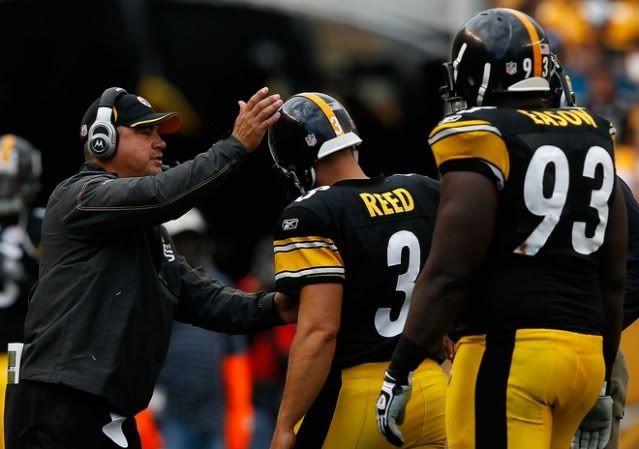 Atlanta won the toss and elected to receive.
Roddy White pulled in a catch on the sideline to pick up a first down and Atlanta's offense looked ready to roll. After a 3-yard run by Turner, Ryan couldn't hook up with White, setting up a big 3rd and 7. Ryan hit backup RB Jason Snelling out of the backfield to move the chains but...
Wait a tick!


Holding. Offense. 10 yards, repeat third down.
Ziggy gets pressure and Ryan can't find Norwood on 3rd and 17, so it's punt city.
Randle El's first real chance for a punt return was almost disastrous as Keyaron Fox gets blocked into him, but the ball takes a lucky hop in the other direction and the Steelers wind up with great field position right at midfield.
And then, on the first play from scrimmage...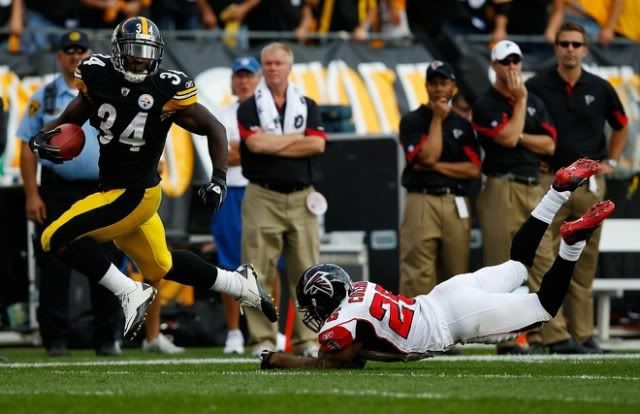 RAISE
SOME
MENDEN-HELL
GAME.
Players of the Game
Offensive Game Ball: Rashard Mendenhall
Defensive Game Ball: Lawrence Timmons
Honorable Mentions:
Troy Polamalu
Bryant McFadden
LaMarr Woodley
James Harrison
Hines Ward
Dennis Dixon
Daniel Sepulveda
Jeff Reed
Mr. Yuck Sticker of the Game
Clock Management
Wow that was a horrible, horrible coaching decision to take a timeout with 2:05 to go in the game. If we had lost that game, it would have been solely on Tomlin's shoulders for using that timeout and giving the Falcons extra time on the clock.
All around good team effort. Good to get a win on the board against a good team.
Dixon was solid. No complaints in that department. He could have made a better throw on the INT, but he stood in under pressure very well and made some very nice throws. He also had some receivers drop balls.
Randle El didn't have his best game, he should have made a few of those 3rd down catches, even if the passes were low.
What a game by Hines. 6 catches for 108 yards. He's still got it.
Maurkice Pouncey is a monster. He very well might be the best center we've had since Dermonti Dawson.
Mendenhall talked in the preseason about how the coaches were working with him on "finishing" runs. He certainly did that at the end.
Lawrence Timmons was absolutely everywhere on defense. Night and day from last year in run defense. He looked great.
Having Polamalu back is huge. Wow.
Clark still looks for the big hit rather than the ball. He could have had 2 INTs today if he even had the slightest idea where the ball was.
Willie Gay looks pretty good as the nickel back.
Sepulveda averaged 50.8 yards per kick. Wow. Superman indeed.
Bryant McFadden had a great game as well. 12 tackles and an all around solid performance when he spent much of the day matched up against Roddy White. He made some big plays when he needed to in big situations to prevent completions or make tackles. Good to have B-Mac back.
Jason Worlids had 3 tackles on Special Teams. He looked good out there.
We held Michael Turner to only 42 yards. His long was 7. Great game by the run defense. It helps having Timmons play all over the field.
Max Starks went down with a leg injury that looked pretty bad. Hope he's okay, but seeing him getting carted off the field wasn't a good sign.
RAISE SOME.