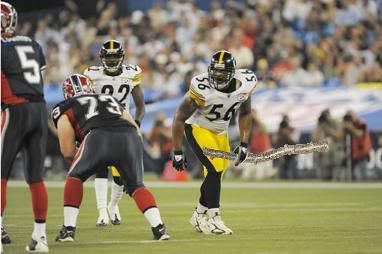 Steelers.com
has an all-new, redesigned look.
They are updating their multimedia section, so photos will be hard to come by until they get that up.
Worthwhile information from
Jim Wexell on twitter
:
For out-of-towners, tonight's game is listed here: www.channelsurfing.net
1 p.m. Sunday replay on NFLNetwork
What we're looking for tonight:
1. No injuries
It's the preseason, so this should be obvious.
2. Approaching cut dates
The first roster cut comes on September 1, so this will be the last game where we will see some players. The first roster cut is only from 80 to 75, so some of the names you've heard often locked into battles won't be cut just yet. The last cut date, where the roster is trimmed from 75 to 53, comes after the Panthers game.
3. More time for the first team
The 3rd preseason game is the time when first team offenses and defenses usually play close to a half, as a "tune-up" for the regular season. The Steelers will likely show a little more than their vanilla defense tonight, and the offense should actually have a chance to get a rythym going.
4. Buffalo's no-huddle offense
The Bills have installed a no-huddle offense that they will work out of for the whole game, and it will be interesting to see how the Steelers combat this and how our defensive players hold up. Reports are that T.O. is likely out, which will give Trent Edwards some time to work on chemistry with his other receivers (Lee Evans, Roscoe Parrish, James Hardy).
5. Ben's ankle/heel
Ben's once again brought Steeler nation to a halt a few weeks ago when he went down with an injury to his Achilles. Tonight is his chance to show he's back at full strength and ready to lead us to another championship.
Ian will be at the game, and will be posting some periodic
updates on Twitter
. John just moved away to go to grad school, so he's still unpacking.
Time to get pumped!!
GO STEELERS!!