7
23
The weather sucked, the offense sputtered, the officiating was atrocious, but in the end the Steelers came out with a victory. And at this point in the season, winning is all that matters.
The Steelers won the toss and deferred.
The Bengals were poised to go 3-and-out, but an offsides call on Woodley on 3rd and 2 kept the drive alive. Ocho pushed off in the end zone but the refs aren't throwing flags on the Bengals, so it's PI on Ike. 1st and goal from the 1 and Palmer throws it to some lineman.
Thank the officials for that one Cincy. Gift TD.
The Steelers come out grinding the ball with Mendenhall. Arians' wife must have been impressed with how cute Bruce has been calling games recently, because he tries another trick play, this time a flea-flicker that almost gets blown up twice, but Ben keeps it alive and flips it out to Mendenhall who makes a few spin moves and makes something out of nothing. The Steelers get as deep as the Bengals 35 after Moore grinds out some good runs, but a 3rd down sack pushes us out of field goal range.
After TO caught a big deep ball on the last drive, the Steelers made the move to switch Ike off of Stinko and onto TO. That pretty much ensured TO would be a non-factor the rest of the game. Stinko, now with B-Mac on him, got a few opportunities on out-routes. Cincinnati got called for their first penalty of the game, an illegal formation. Their offense was too stunned that they actually got penalized to do anything.
The Steelers go 3-and-out after Ben's 3rd down pass gets batted down. Motif offense.
The Bengals bring in the speedy Bernard Scott and he gashes the Steelers D for a few big gains.
The Bengals start moving the ball again, with Palmer hitting Stinko on an out-route to convert 3rd and 10 then Benson ripping a 24-yard gain on a screen pass to get inside the Steelers 30. But then the switch gets flipped. Woodley finally blows through a hold and brings down Palmer. Timmons blows up a screen with his insane closing speed and brings Benson down for another loss. On 3rd and long, Gay gets pressure and forces a high throw that Ryan Clark knocks out of Shipley's hands. Big-time stand by the defense to knock the Bengals out of field goal range.
The Steelers take over at the 8 and get things moving with passes to Wallace and Ward, but the drive stalls out near midfield.
On the second play from scrimmage, Palmer throws across the middle looking for um...someone? In all honesty, he threw it right to Troy. Either way, Troy takes off down the sideline, gets tripped up by Palmer inside the 10 and launches himself for the goal line...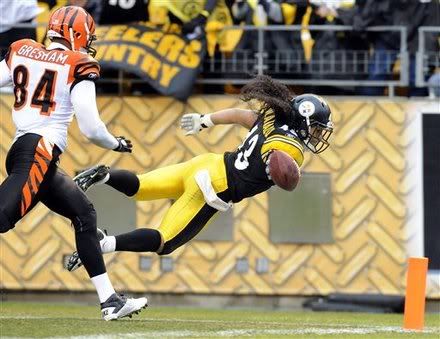 TOUCHDOWN.
Picture of the Year candidate right there.
The defense is playing inspired now after Troy's big play. Willie Gay makes a sack on 3rd down and forces another punt. Cincy's punter has the wind at his back and demolishes the ball for a 67-yard kick. Touchback.
The Steelers take over with just over 2 minutes to play. After Spaeth drops a pass, The Best #7 In Pennsylvania takes over. Ben runs a zone read and pulls it down, running for 8 yards. Ben uses a quick-hitter to Brown to move the chains and get things rolling. After a first down sack, Ben finds Hines wide open over the middle of the field to move the ball near midfield. Two plays later, Ben steps up under pressure and slings one to Randle El who makes a hell of a catch, going up one-handed and bringing it down.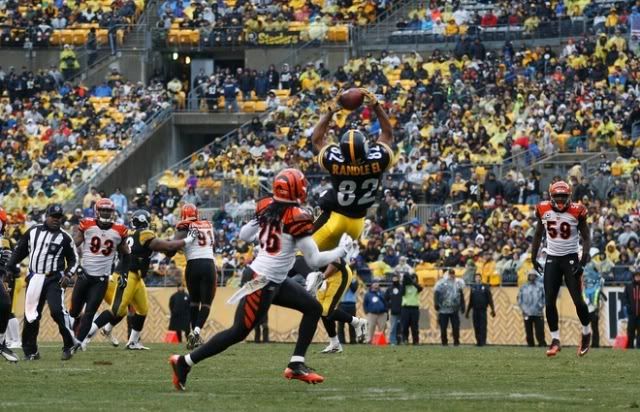 This picture doesn't even do it justice. What a grab. EL Yeah had his best game of the season.
Ben does his Michael Vick impression again, scrambling up the middle for 13 more to get down to the 5. After a first down spike and two near-interceptions, Suisham gives us the lead before the half.
The Bengals defense really isn't that good. Ben rolls out and hits Hines again with a 35-yard rocket. Then Mendenhall goes back to work, grinding our way into Field Goal territory. Antonio Brown comes up with another big 3rd down catch, keeping things alive. Ben steps away from pressure again and is able to find Hines down inside the 10. Great game for Hines with the kids from his Helping Hands Foundation in the stands. A holding penalty sets the Steelers back and they have to settle for 3.
After the Bengals had been holding Harrison and Woodley all game, they finally get flagged for a hold. However, the flag was on TO, not an O-lineman (more on this later). Cincinnati sucks. Punt.
The Steelers take over with the opportunity to put the game away. Being up by 6 is never a comfortable lead. The drive looks like it's in trouble early after two holding penalties and incompletion set up a 2nd and 30. However, Ben is able to thread the needle over the corner and hit Hines who almost picks up the first down.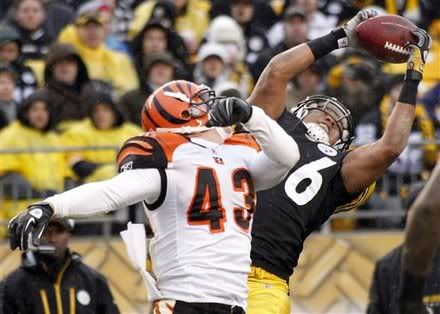 Pretty simple 4-vertical route combination. Great throw and catch.
Redman converts on 3rd and 1 to keep the drive alive. Another holding penalty sets up a 1st and 20, but that's child's play at this point. Ben hits Wallace on a bubble screen and like he's shot out of a cannon, Wallace is past the sticks in the blink of an eye.
The Steelers come out with Randle El in the shotgun running the triple option. He fakes to Mendenhall then flips it out to Wallace who turns the corner and takes it down inside the 20. However, with the offense in striking distance, the Bengals get to Ben twice, knocking us out of field goal range and forcin a punt.
With Ike taking TO out of the game, Palmer was looking almost exclusively for Ocho. Everyone knew it. Even LaMarr Woodley, who undercuts an out-route for Stinko, making a good grab...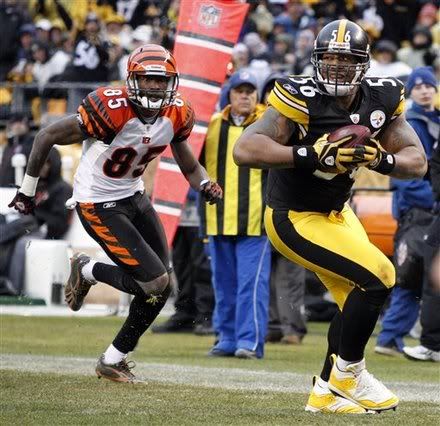 ...and is able to waltz into the end zone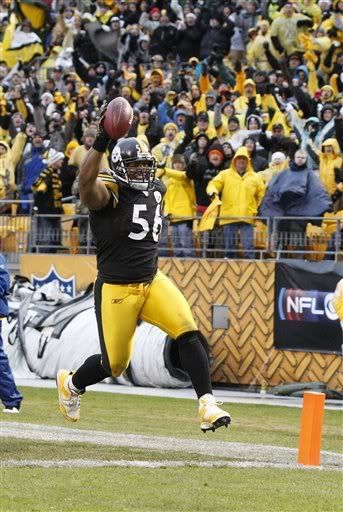 That probably got Woodley some locker room cred. Keisel was jobbing him last week saying that Woodley would have returned the fumble for a TD if he didn't have such a big butt.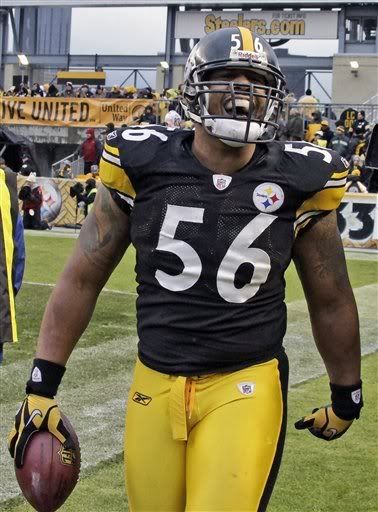 NO DOUBT THIS TIME
The Bengals pick up 1 first down, but it really doesn't matter. Woodley rings up his second sack of the game.
He NEEDS to be our #1 priority this off-season.
With 9 minutes to go in the game, the motif offense takes over. Ben hits Wallace streaking down the left side on 3rd and 4 for a big 33-yard gain to put us in field goal range. Another set of the motif offense makes it a little shorter field goal into the wind.
Solid fist pump
Cincy takes over with 5 1/2 to play and goes no-huddle with Palmer finally looking for receivers other than TO or Ocho. Shipley makes a few catches, including one on a 4th and 3. Palmer tries to go deep for TO over the middle, but he makes a soft effort on the ball, not wanting to get hit, so he drops a ball right in his hands. Joke. The Bengals make their way all the way down to the Steelers 16 when Palmer decides to go back to Shipley. Palmer tries to go back to TO once again but Troy undercuts it for his second pick of the game.
Is TO even trying at this point? Troy is a monster.
Troy brings it back and laterals to B-Mac who has trouble picking up the ball and finally just falls on it. Steelers ball with under 2 minutes to play.
Cincy had a few timeouts left, so we couldn't just kneel it out. Mendenhall ripped off a big run on first down to pretty much ice it. The Steelers were able to run all but the last few ticks off the clock.
GAME.
Offensive Game Ball: Hines Ward
Defensive Game Balls: Troy Polamalu and LaMarr Woodley
Mr. Yuck Sticker of the Game
We hate to sound like we use this segment to complain about the officials every week. But really, this is getting ridiculous. There were no holding calls against the Bengals offensive lineman. I can think of at least 4 instances off the top of my head when Harrison and/or Woodley were blatantly held right in front of the refs. Secondly, Ben was getting clobbered after the throw all day today and couldn't buy a call. The PI call on Ike in the end zone was complete trash. The whole crew seemed apprehensive to call anything on the Bengals. We're not big conspiracy theorists, but at this point, it really does seem like NFL officiating crews are, week in and week out, being uneven in the calls they are making.
Another great performance from Ben in poor conditions.
The field actually held up pretty well for being re-sodded recently.
LaMarr Woodley really turned it on. What a game. 2 sacks and a pick-6.
What can you say about Troy Polamalu? He's been playing like a man possessed the past few weeks. Ever since Deion said Ed Reed was better, Troy has shown who the best safety in the league really is.
Carson Palmer completed more passes to Troy (2) than he did to TO (1). Great move by LeBeau to switch Ike onto TO.
This was a big win for us from a revenge standpoint and for getting that all-important division win to preserve our tiebreaker over Baltimore.
Great performance by the defense. They should have had a shutout, the touchdown was a gift from the officials.
Suisham had a good game kicking in poor conditions.
Kapinos did a nice job punting and holding. Had to deal with some bad snaps and got them down for Suisham.
The offense struggled to put points on the board, but at this point in the season, a win is a win and we'll take it.
No offensive touchdowns does leave a bit of a sour taste in your mouth. Going to have to cash those in for 6 next week against the Jets.
Antonio Brown is looking good as he's starting to pick up the offense. Good to see the Steelers utilizing his speed.
Randle El had his best game of the year and might have made the catch of the year.
Is there any doubt in anyone's mind that our top priorities this offseason need to be LaMarr Woodley and Ike Taylor? There shouldn't be.
There are 9 guys on the team playing at a Pro Bowl level right now. They might not all go, but they're playing like they deserve it.
James Farrior has really come on lately. He led the team in tackles today and has been playing like a 25-year old the last few weeks.
If Harrison ever gets holding penalties called, no one will be able to move the ball against us.
The biggest thing at this point in the season is to control our own destiny, which we do. It doesn't matter that we didn't clinch a playoff spot this week. As long as we take care of our business and keep winning, everything else will fall into place.