On paper, the Green Bay Packers have a fantastic offense. They were in the top 10 in both total offense and points scored. They ranked 5th in passing yards and 4th in passing touchdowns.
If they have a weakness, it's been their running game, which has struggled to find its legs since Ryan Grant got hurt early in the season. They ranked 24th in the league in rushing offense, but that might have been more a facet of the fact that they threw the ball 120 more times than they ran it last season.
Here's a quick look at what the Steelers defense is up against.
Aaron Rodgers & Matt Flynn
Aaron Rodgers has become the media darling during the 2010 playoffs and has been referred to as the "quarterback of destiny," whatever that means. Rodgers has been nothing short of outstanding for much of his career in Green Bay. It's pretty clear that getting rid of Brett Favre was the right decision to move this franchise forward. When Rodgers went down with his second concussion this season, Flynn was able to step in and be serviceable. In fact, he almost led the Pack to victory on a Monday Night against the Patriots.
James Starks, Brandon Jackson, John Kuhn
The emergence of rookie James Starks has given Green Bay's rushing attack a bit more of a punch than it had for most of the season. Starks is a downhill power runner that has enabled Green Bay to have success running the ball out of their spread formations. Somewhat surprisingly, John Kuhn is the only player on the Packers roster with a Super Bowl ring, which he got when he was a member of the Steelers practice squad. Kuhn is a fan-favorite in Green Bay as a combo blocking back, short-yardage back, and receiver out of the backfield.
Greg Jennings, Donald Driver, Jordy Nelson, James Jones
Green Bay has one of the deepest receiving units in the league. Nelson and Jones could probably start for about half of the teams in the league. Driver has been an institution in Green Bay, racking up over 9600 yards in his 12 year career with the Pack. Much like Hines Ward, Driver is most dangerous near the goal line and always seems to find the end zone. Jennings has emerged as one of the best down-the-field receivers in the league. He has breakaway speed once he gets the ball in his hands. He has surpassed 1100 yards in each of his last 3 seasons, averaging over 16 yards per catch. All 4 of Green Bay's receivers will see time on the field. The one thing in our favor is that, unlike New England's offense which is based on dink-and-dunk underneath passes, Green Bay's offense is more based on throwing the ball downfield. All 4 of Green Bay's main receivers averaged over 11 yards per catch.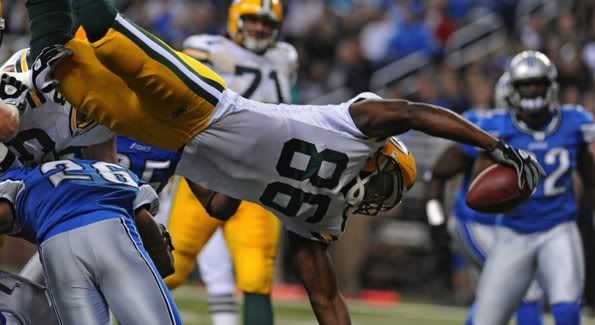 Andrew Quarless, Donald Lee
Those of you Penn State fans will remember the name Andrew Quarless. Niether Quarless nor Lee are the receiving threat that Jermichael Finley was before he suffered a season-ending injury. In the Steelers-Packers game last year, Finley torched the Steelers defense with 9 catches for 74 yards and a touchdown. Since Finley got injured, the Packers have failed to utilize their tight ends in the way Finley was used. In 5 games Finley had 21 catches for 301 yards and 1 TD. On the season, Quarless had 21 catches, 238 yards, and 1 TD and Lee had 11 catches, 73 yards, and 3 TDs.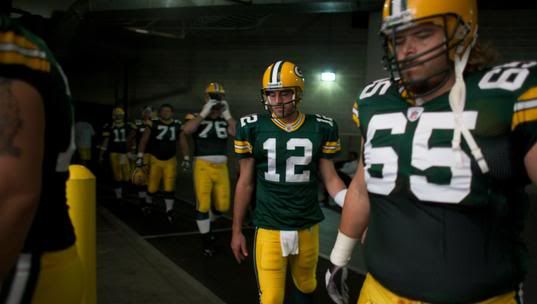 Chad Clifton, Daryn Colledge, Scott Wells, Josh Sitton, Bryan Bulaga
According to
Football Outsiders
, the Packers line ranked 23rd in the league in run blocking and 21st in pass protection. The Packers spent their first round pick on tackle Bryan Bulaga from Iowa, and their pass protection was decidedly improved this season. In 2009 the Packers line ranked 30th in pass protection, giving up a league-high 51 sacks. This season they improved to 19th in the league with 38 sacks surrendered.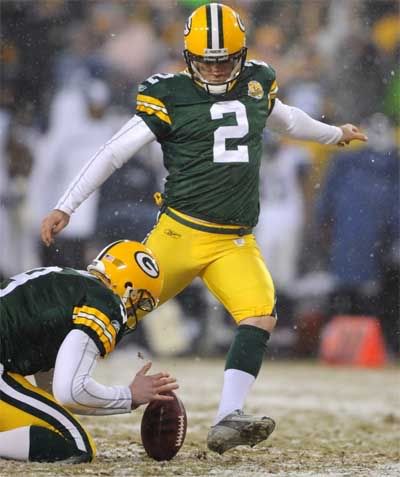 Mason Crosby
I'm not gonna lie. Crosby might be one of my favorite kickers in the league. He has a monster leg, but he didn't have a great year, converting only 78.6% of his kicks. However, 4 of his 6 misses came from over 40 yards. In the playoffs, his only miss came from over 50 yards.