'08-'09 Record:
2-14
The Rams' descent in their return to embarrassing mediocrity continued in 2008, as they suffered their fifth consecutive non-winning season. Unfortunately, the team's record isn't the only thing in noticeable decline. While the team's defense has long been looked upon as their definitive weakness, the offense has been just as bad the last two seasons. After scoring at least 319 points from 2004-2006, the offense hasn't topped 263 points the last two years. Meanwhile, the defense has also continued to falter, from allowing 381 points in 2006 to 465 points in 2008. A team once dubbed "The Greatest Show on Turf" has recently been fighting to not be named "The Worst Show on Earth."
In all fairness to the offense, injuries over the past couple seasons have been more decimating to the Rams than perhaps any other team in the league. Despite participating in the majority of games, QB Marc Bulger was continued to be plagued by injuries, while once budding star RB Steven Jackson managed just over 1,000 yards and only 7 TD's. As bad as these injuries were, the Rams were hit hardest, for the second consecutive year, on the offensive line. Fortunately for the Rams, while Torry Holt quickly fell from top-tier wide out status, they may have found their replacement in the form of Donnie Avery, who emerged as a reliable threat amidst Holt's constant double teams. Overall, if you want a true measure of St. Louis' struggles, look only to their 14.5 points per game, tied for 30th in the NFL.
The defense is a mess. Aside from the defensive line, the Rams boast a collection of players that look like they belong in mid-major college programs. St. Louis will attempt to rebuild around potential studs Chris Long (DE, 2008 2nd overall pick) and tackle Adam Carriker (2007 13th overall pick), both of whom had somewhat disappointing years but still have loads of potential. The rest of the squad is so bad, it's not even worth mentioning any names. So bad, in fact, that the defense allowed 29.1 points per game, matching the offense's 31st worst ranking for point production in the league.
The 2008 season, therefore, led the Rams to the 2nd overall pick for the 2nd consecutive season. Most people seem certain the front office will go offensive line, but on a team devoid of any defensive certainties, St. Louis, in my opinion, has a multitude of options.
Team Needs
: OL, LB, CB, S - Keeping Bulger and Jackson healthy via better blocking is a top priority, but the secondary levels of the defense need to be improved.
Who They Should Pick
: Andre Smith, OL, Alabama (6'4", 340)
Who They Will Pick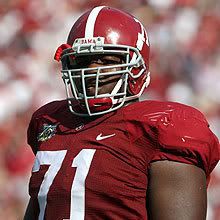 Andre Smith, OL, Alabama (6'4", 340)
Despite needing immediate and drastic defensive help, the Rams will ultimately decide that protecting their two offensive stars is more important, and rightfully so. Without a healthy Bulger and Jackson, two pro-bowl caliber performers, the Rams won't sniff the playoffs, even in the weak NFC West. Orlando Pace's career is just about done, and outside of Roy Schuening (last year's 5th round pick) and Alex Barron (2005 1st rounder), the Rams have no decent O-line prospects. Aside from Smith's suspension for Alabama's loss to Utah in the Sugar Bowl, there is nothing not to love about Smith, who can play every spot on the line except for center. His biggest asset is his mobility, while some scouts question his height, but this is only a minor concern for a player of such talent. The true debate ensues as to whether Smith is better than Baylor OT Jason Smith. While Smith is certainly a first round talent, I feel most experts are overrating him by putting him in the top-5.
Sleeper Pick
: Malcolm Jenkins, CB/S, Ohio State (6'1", 201)
Ian's Projection
It doesn't seem like there is much debate around internet circles about what position the Rams should draft. It's more or less unanimous consent that they need to go O-line. The question now remains which of the "big 4" tackle prospects they should select. Michael Oher's name has been dropping on draft boards recently with the ascending of Eugene Monroe (OT-Virginia) and Jason Smith (OT-Baylor) while Andre Smith (OT-Alabama) has always been near the top. My inkling is that the Rams don't do anything risky and go O-line, then take a linebacker or defensive back at the top of the second round.

Who They Should Pick
: Andre Smith (OL-Alabama)
Who They Will Pick
: Andre Smith (OL-Alabama)
Sleeper Pick
: Eugene Monroe (OT-Virginia)