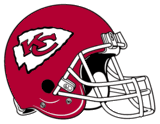 '08-'09 Record:
2-14
So much for buying into Herm Edwards' plan. Three years and a 15-33 record after hiring the former Jets' head coach, Edwards was given his pink slip and Todd Haley, a hot commodity after guiding the Arizona Cardinals' offense in an improbable journey to the super bowl, was brought in to replace him. Many thought the Chiefs would wait another year to make a coaching change in an attempt to lure Bill Cowher to Kansas City. The chance to bring in a young coach with super bowl experience was too much to resist, however, and the Chiefs decided to pull the trigger this off-season. One has to wonder if this was the right move though, considering the team's defensive struggles the past few seasons. Is a former offensive coordinator really the best fit for the future of the franchise? Only time will tell. Fortunately for Haley, he is not without talent on each side of the ball.
Twenty-four year old Tyler Thigpen emerged as a more-than-capable NFL signal caller from the time he became starter midway through the season. Almost 3,000 total yards and 21 TD's later, Thigpen has the K.C. brass wondering if they already have their franchise quarterback. Of more concern for the Chiefs may be at running back where Larry Johnson continues to struggle with injuries and is a shell of his former self. Rookie Jamaal Charles provided the offense a spark at times, amassing over 600 total yards. For as much criticism as K.C.'s receiving corps receives, their depth chart boasts some very good players. Tony Gonzalez continues to demonstrate that he is one of the best tight ends in the league. Additionally, in only his second year, 2007 first-round selection Dwayne Bowe quickly asserted himself as a top wide out, pulling down 86 passes for over 1,000 yards and 7 scores. While Thigpen could use one more play maker to help improve upon an offense that ranked 24th in yards and 26th in points per game, the real concern is the offensive line. Decimated by retirements and injuries the past few years, this once great O-line will be rebuilt around 1st-rounder Branden Albert, as well as fellow second year tackle Barry Richardson.
The defense has much more work to do if the Chiefs hope to make the playoffs next season. The line is very young, but oozing with potential. Unfortunately, that potential was not met in 2008. Turk McBride, Tank Tyler, Glenn Dorsey, and Tamba Hali each had solid seasons, but none of them were able to replicate the production of traded star Jared Allen. Linebacker Derrick Johnson had to roam the middle of the defense for half the season without sidekick Donnie Edwards, who only played in 7 games. While the front 7 is brimming with talent, the secondary is devoid of any such play makers, save second-round pick Brandon Flowers, who had 2 INT's as a rookie. Since the linebackers had to drop back and help in coverage, the entire defense was aversely affected, evidenced by the Chiefs ranking near the bottom of the league in total yards (31st), rushing yards (30th), passing yards (28th), and points (29th) allowed per game.
While the stats look bad, and the record looks even worse, the Chiefs have hope for the future under the leadership of a new coach, the unique talents of a hidden-gem QB, young players with loads of potential on defense, and the #3 overall pick in April's draft. Additionally, half of their 14 losses came by 7 or fewer points.
Team Needs
: QB?, RB?, OL, DL?, CB, S - The O-line still needs an upgrade, but after selecting Albert last year, the Chiefs may be hesitant to take another lineman. K.C. also has to decide if the time is right to address the quarterback and running back positions.
Who They Should Pick
: Malcolm Jenkins, CB/S, Ohio State (6'1", 201)
Who They Will Pick

Brian Orakpo, DE, Texas (6'4", 260)
I feel that K.C.'s secondary needs to be addressed sooner rather than later. Unfortunately, there are no top-5 secondary prospects according to NFL scouts. While Malcolm Jenkins would form a formidable duo with Flowers for years to come, the Chiefs' front office will likely look to address the loss of Jared Allen
.
Orakpo would be almost an exact replica of Allen and his pass-rushing ability, and, paired with Glenn Dorsey, last year's first round pick, would be half of a potentially dominating D-line tandem for the foreseeable future. Orakpo's size is an issue and may result in a switch to linebacker in the future. Also of concern is his durability, as Orakpo has battled knee injuries the last two seasons. Orakpo may be a bit of a reach at #3, but he fills a team need for the Chiefs.
Sleeper Pick
: Matthew Stafford, QB, Georgia (6'3", 228)
Ian's Projection
Who They Should Pick
: Jason Smith (OT - Baylor)
As John highlighted, Kansas City has a lot of young talent on the defensive side of the ball. However, two numbers from the past season stand out. The Chiefs set a NFL record for fewest sacks in a season, juxtaposed to the 37 sacks they allowed last year. That number would likely have been even higher if it wasn't for the mobility of Tyler Thigpen. If Thigpen is going to be the long-term solution in Kansas City, the Chiefs need to go out and find someone to protect him. Branden Albert (first round pick last year) is a solid player but is either a guard or right tackle. They need a left tackle to protect Thigpen, who showed flashes of brilliance when operating in a spread offense look last season. Drafting a tackle would also allow them to send Tony Gonzalez out on pass routes more, as they have been utilizing him more and more as a blocker in past years to make up for deficiencies in their offensive line. With Andre Smith's stock falling, Eugene Monroe and Jason Smith are now in the running to be the top tackles taken. Even though St. Louis will likely take a tackle as well, I am still of the opinion that Kansas City should address the O-line.
Who They Will Pick
: Mark Sanchez (QB - USC)
Pioli and Haley both come from systems that have, in recent years, been very pass-heavy (New England and Arizona). However, both of those systems flourised because of efficient passers. Mark Sanchez is known for his accuracy, and I still believe that Detroit will take Stafford with the #1 overall pick. With one of the top two QB's off the board, I believe Kansas City will snatch up the other one, and try to use the rest of the draft and free agency to build a young core of talent around their new franchise QB.
Sleeper Pick
:
Brian Orakpo (DE - Texas)/Everette Brown (DE - Florida State)

The big question with both of these players is if they are 4-3 defensive ends or 3-4 outside linebackers. If either or both of them project as 4-3 ends, look for the Chiefs to take a good look at them. The inability of the Chiefs to rush the passer last year has to be a major concern entering this offseason, and if Pioli and Haley see it as a big enough concern, they may even use their top pick on one of these two guys.