23
Wow it's great to have football back. Just being in the stadium again was a great feeling. Solid vibe to the crowd tonight, even though the game definitely lost its mojo after the hour-long rain delay.
Nice ovation for Dick LeBeau before the game from both the Steelers and Lions.
Steelers win the toss and elect to receive.
Byron comes out to lead the offense. Flozell Adams gets his name called when he falls on a Mendenhall fumble. Sepulveda owns Derrick Williams' life with a 59-yard punt.
Jahvid Best gets 3 calls with the Lions pinned back near their goal line, and Lawrence Timmons steps up with a big tackle on third down to force a 3-and-out.
Cliff Avril, who Ty warned us about in our gameday post, blows past Flozell Adams and sacks Leftwich. Detroit's front 4 dominated our line during this series. Punt.
Stafford's first pass of the game hits Best in the hands and lands right in the breadbasket of Ryan Clark.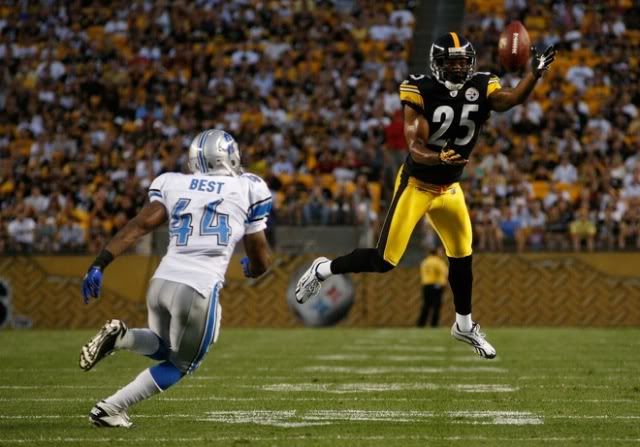 The Steelers can't do anything in the red zone, and Jeff Reed comes out for his first kick of the seaason.
With the first quarter winding down, the Steelers sent out the second team defense. Detroit left their first team offense on the field, and it was pretty obvious. Stafford marched the Lions down the field. It was clear the Lions wanted a Stafford-to-Johnson touchdown in the worst way. They took a shot over Keenan Lewis, but Lewis went up with two hands and made a great play to almost pick the ball off.
A few plays later at the goal line, the Lions tried a fade route to Johnson, but the undersized Joe Burnett made a great play on the ball to break it up.
On 2nd down, Johnson moved to the other side, and pushed off of Keenan Lewis to catch one on a come-back route for the score. The crowd was irate that there was no penalty.
Isaac Redman puts the team on his back and powers down the field, capped off by a great 31-yard run where he just refused to go down. Gotta love the way the guy keeps his legs moving and just refuses to be taken down. The offense stalls out in the red zone again.
Reed must have been jacked up after the second field goal, because he pounded the kickoff like it was a paper towel dispenser out of the back of the end zone.
Shaun Hill comes in and doesn't do much. Punt city.
Dennis the Menace comes in and goes to his feet right away for a solid gain. Redman converts a 3rd and short, giving DTM the chance to go to work. It starts to rain and half the crowd heads for the exits.
In front of an almost-empty house, Dixon rolls left and hits Arnaz Battle along the sideline who spins past a corner and takes off down the sideline all the way down inside the 10.
Dixon runs a naked boot out to the right and lunges for the pylon amidst the pouring rain. The ref signals touchdown but it goes back for review and they say DTM's knee was down before he got in. No matter, Red Zone Redman walks in untouched from a half yard out.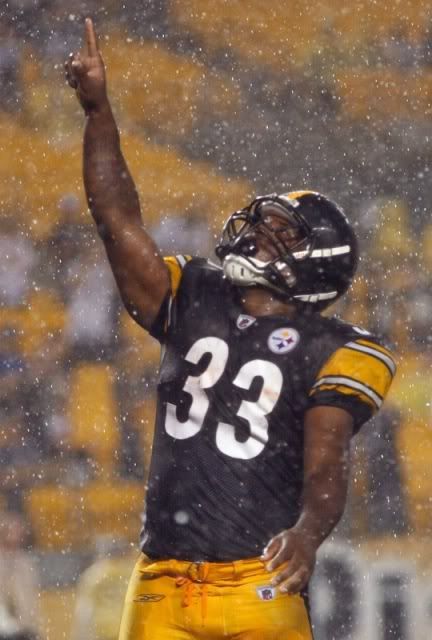 Reed kicks off, and then it happens....
After an hour-plus delay, they come out and finish up the first half. Snore.
Shaun Hill comes out ready to lead the Lions back. Aided by a facemask from Da'Mon Cromartie-Smith, the Lions get inside the red zone. However, DCS makes up for the penalty by recovering a fumble a few plays later. Anthony Madison with a great play to knock the ball out and stop the Lions on the doorstep.
The Steelers grind their way out of their own zone, getting some help on a pass interference call on 3rd down. Three plays later Emmanuel Sanders makes his first grab on a quick slant to convert a 3rd and 3. DTM starts to make some plays with his feet, prompting Detroit to use an early timeout to figure out what the hell was going on. Arians comes out trying to pee on their faces, calling a reverse to speedy Antonio Brown, who picks up 8 and gets 15 more on a horse-collar tackle. The offense stalls out in the red zone, and Jeff Reed tacks on another.
Detroit's next drive is punctuated by two holding penalties that put them in 1st and 30.
Mr. Irrelevant is somewhat less, but Detroit still has to punt.
Dixon can't really put much together, and the drive ends when Dwyer loses 6 yards on a screen on 3rd and 7. Superman with another solid kick.
Drew Stanton tries to bring the Lions back, but overthrows a wide open receiver at the goal line, bringing on the field goal unit. Former Buckeye Aaron Pettrey comes out for the field goal and coach calls a timeout to freeze the kicker. This might sound like a joke, but whatever, it worked. Pettrey misses wide right.
Dixon comes out and fires one across the middle to Antonio Brown who turns it upfield and blows by the Lions defense. 68 yards TO THE HOUSE.
Bank it.
Stanton makes a few nice throws to move the Lions inside the 30 but they come up short on an attempted 4th down sneak.
Homestead Charlie comes in for mop-up duty. Antonio Brown makes a great shoe-string grab to convert on 3rd down, but the drive stalls after Dwyer nicks up his shoulder.
Sepulveda pounds one 54 yards into the end zone.
Detroit practices their No Huddle offense, but they don't score so it doesn't matter.
Game.
It's good to be back.
Offensive Game Ball: Isaac Redman
Defensive Game Ball: Keyaron Fox
Mr. Yuck Sticker of the Game
Yeah, that sucked. Waiting an hour in the packed Great Hall having to watch Pomp & Nelson drone about the game isn't exactly a treat. Too bad Rihanna wasn't there to help us out.
Final Thoughts
Redman looked great tonight
Still don't think that Logan makes the team. With the way Antonio Brown and Emmanuel Sanders played tonight, it looks like they're going to unseat Logan from his roster spot.
Dixon had a solid game. He may have tucked it down too much, but he made plays when he had to and got the job done.
Brown and Sanders are fast as hell.
Love the way that Redman runs. He just keeps his feet moving and his legs churning.
A lot of balls on the ground tonight.
Was it just us, or was Keyaron Fox in on every tackle while he was on the field? He needs to see the field more this year.
Stevenson Sylvester and Thaddeus Gibson had a solid games as well.
Jahvid Best is a solid back. Detroit made a good pick grabbing him.
Gotta say, Detroit's starters looked decent. I'm not jumping on the bandwagon yet, but they've got a solid core of young players to build around. I'll go as far as to say they probably have one of the top 5 4-3 D-lines in football.
Maurkice Pouncey is the real deal. He needs to play.